If you're anything like us here at The TV Junkies, then some of your favorite Workin' Moms moments come from the Toddler Time group scenes that start every episode. A huge reason those scenes are so enjoyable is the group's leader, Val Szalinsky, played by Sarah McVie. We're never quite sure what topic Val will bring to the group each week, nor the craziness that will come out of her mouth, but thanks to McVie, it's clear Val has the best of intentions and the biggest heart.
McVie didn't get her start working in television though, as she spent many years in the theater, including performing for five seasons at the Stratford Festival of Canada. There she had roles such as Cordelia in "King Lear" opposite Christopher Plummer, The Bawd in "Pericles," Lady MacDuff in "Macbeth," and Marianna in "All's Well that End's Well." While based in Ottawa, McVie also played numerous leading roles at The Great Canadian Theater Company and was also an instructor at Carleton University.
However, it was a fortuitous trip to Toronto that found McVie auditioning for her Workin' Moms role and the rest is history. McVie recently spoke with The TV Junkies about playing Val and why she's so grateful to showrunner and creator Catherine Reitman for taking a chance on her. McVie also discussed how being around the other Workin' ladies is rubbing off on Val and growing her confidence.
The TV Junkies: I know a lot of your background is actually in theater. Why did you decide to make the switch to TV or was that just a natural progression of your career?
Sarah McVie: It was something I always wanted, but I lucked out when I left school and got picked up by the Stratford Festival. I had early big success there so was doing theater February to November. I literally wasn't available and then when I left there people would say 'Oh, you've done Stratford, but that's not really TV or film.' So it was tough and it's taken me awhile to crack it. How will I ever fully thank Catherine Reitman for taking a risk on an actor who hasn't spent the last 20 years working on TV and film? I was also based in Ottawa, and I didn't have the access to the Toronto market and auditions that I have now that I've moved here.
The theater is actually the reason though why I was in the right place at the right time. I wrote a play with three other women that was a big hit called The Public Servant. It got picked up and brought to Toronto. One of my co-workers mentioned off hand that they were casting a TV show, and I did the best self tape I'd ever done in my life thank goodness.
I took to the material right away and the way the character was written felt so natural for me. I just love her peppiness and over-sharing. I happen to share that quality with her and can relate. I've also been in a leadership position through workshops and teaching so I had to think how to lead a group and create that safe space. It's just been like heaven ever since. It's hard work, but in all the right ways.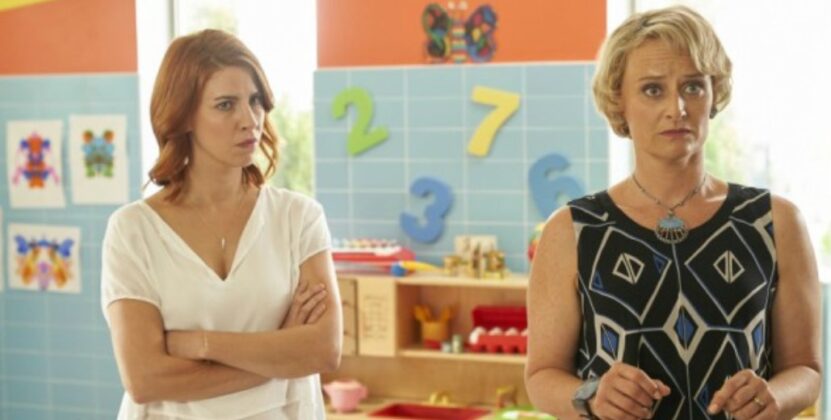 TTVJ: Catherine seems to have a knack for picking people like that in front and behind the scenes. She will take people with maybe not the biggest resumes and give them a shot which is amazing.
SM: She's looking beyond the traditional checked boxes. She's grown up in the industry and watched her father work so effectively that I think she's absorbed a lot of his entrepreneurial and creative instincts. If you just go with the way things are always done, then you're just regurgitating the same ideas in the same way over and over again. If you want to be innovative then you have to take risks, and she's a wonderful example of a woman taking risks at a time we so need it. She does it all with humor too, and I really can't say enough about her.
TTVJ: Since you've taught classes at university, do you find that you draw at all on those teaching skills as Val?
SM: I think to be an effective teacher is to be a good listener, and I think Val is picking up as much as possible of what's going on. She's the ultimate audience member and is just fascinated or disturbed by everyone. That part of teaching I definitely draw on.
For fans eager to learn more about the show's other characters and their upcoming storylines, check out our exclusive interview with the stars, discussing the exciting transformations in store for Frankie and Jenny this season.
TTVJ: One thing I love about Val is that she takes a lot of flak from the ladies, but she doesn't come off as a pushover. How do you and the writers walk that line with her?
SM: We don't talk about it too much and just play. I feel loved when I'm in that character. I mean I also feel teased, but like so many people, part of why I went into acting was that I was teased on the playground. We're now so much more tuned into bullying, but when I was growing up that wasn't the case. So making people laugh and being able to roll with the punches was my survival technique. I don't think Val is being bullied, but I do think she's not totally at odds with being the butt of the joke. I learned this in teaching too, if they all collectively have a laugh at my expense and it unites them, it was worth it. It's not about me. I'm just the facilitator.
I do feel like Val is developing and there's a confidence growing. These women are really inspiring her to be more outgoing and more confident. Even through the teasing she's finding more confidence and sass.
TTVJ: Do you have a Val moment that made you do a double take or a line that was really hard to get through? She says some pretty outrageous stuff!
SM: Well, I think the episode with the "holy hole" made me think of my parents and what they'd think. But now we're in our second season and they didn't even blink! All that concern is totally outweighed at my joy at speaking those lines. Then to hear my parents laughing and saying it was great is just fantastic. Last season too, one of the first scenes I shot was the conversation about how not everyone can orgasm. I think that's a great conversation that doesn't get had very often, but I couldn't believe I was saying "orgasm" on CBC. [laughs]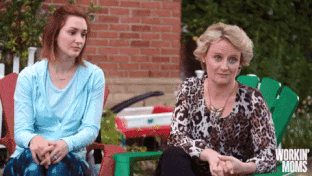 TTVJ: So now you're in Toronto are you going to be focusing more on TV?
SM: I hope so! I'm developing an idea for a TV that I'm hoping to pitch and get made, as well as a one-woman show for theater. I've also done a lot of voice work, and because I've been in Ottawa, the daily auditions are exciting to me and I love it. It probably gets tiring after awhile, but right now I'm digging it.
While you're exploring the latest developments in the world of Workin' Moms, be sure to read our fascinating feature about Juno Rinaldi's transition from her role on the show to becoming a talk show host.