We all know how hard it is these days to cut through the noise of all that's available to TV viewers. With so much to watch, it can be really overwhelming to be a TV fan some days. So if you find yourself settled in one cozy fall evening and looking for something quick to make you laugh, then we here at The TV Junkies have your back. Workin' Moms star Juno Rinaldi, who played real estate agent Frankie Coyne for five seasons on the comedy, has a brand new web series that you won't want to miss!
In My Special Guest, now streaming on YouTube, Rinaldi embarks on her very own talk show. There's just a slight problem, she can't get any celebrities to actually show up as guests. That's when she enlists her best friend, Jenny Young, to guest and carry the show alongside her – banjo, overalls, and all!
The idea for the series was born out of Rinald's need to create her own work. "It's such an import part of being an actor," she tells The TV Junkies. "If we are able to create our own stuff, then it gives us more agency over what we can do as actors and performers." So together with Young, who she has known since 1996 when they went to theater school together in Vancouver, Rinaldi set out to create My Special Guest. "We've always been doing weird, funny shit and making each other laugh," says Rinaldi.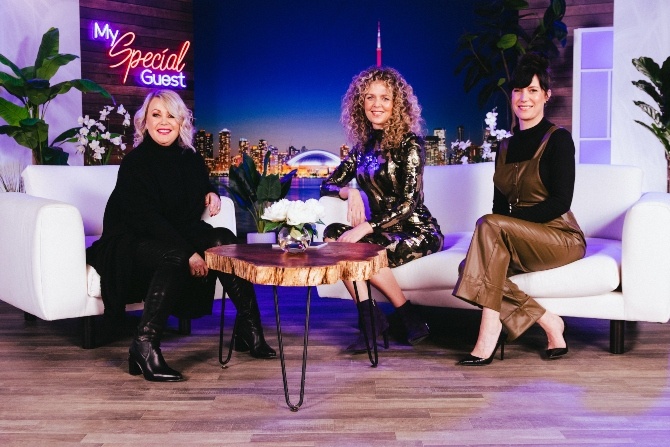 So the duo sat down together at a coffee shop in Toronto and decided to play upon the idea of the Canadian celebrity. Rinaldi explained the concept further, saying that the show "has this caricature of Juno, who thinks she's a really big celebrity, but can't get a single guest to come on her talk show. Then, the only person who keeps showing up is her best friend." Doing the show together had a strong effect on Rinaldi and Young's friendship off-screen as well. Rinaldi says that collaborating on My Special Guest "made us realize even more how much we love working together and how much we complement each other. It's rare to find a friendship that can last so long and grow together. She gets me on a level that not a lot of people do and vice versa."
Once they had the idea for the show, Rinaldi and Young took their idea to Archipelago Productions. There the series was picked up by producers Jana Stackhouse, who would also direct, and Nicholas Ewart. Rinaldi, Young, and Mike Rinaldi then set off to write all of the episodes of a series that gives us "a different version of Juno that just thinks she's the shit, but also kind of out of touch with the reality of it. She's trying to put on this facade of something bigger than she actually is, and throughout the season, we get to see the heart of that, and the devastation and realization that she's really not what she thought she was. Where does she go from there?"
Getting to do projects like My Special Guest is one of the reasons why Rinaldi stepped away from her role on Workin' Moms. "Looking back, Workin' Moms really changed my life. It was such an incredible experience and that character, Frankie, was my whole heart. I had the most incredible five seasons that I ever could've asked for. But there's a part of me that's always been a creator, writer, and collaborator that really wanted to try and have the experience of doing my own show."
She says that she totally understood the questions from people as to why she'd step away from a show that was so successful, all to take a risk on something like her own series. In fact, she wrote those questions into My Special Guest. "I wanted to put that question into the show, this conundrum that I did face over whether this is the right move for me right now. You have to try, because if you don't try, then you won't know. I wanted to put that into the show, of Juno having that same realization."
As the series progresses, thankfully for Juno and Jenny, they do manage to book their first guest. And what a guest it is! Canadian singer-songwriter and icon Jann Arden joins the women for an interview and Rinaldi isn't kidding when she says "she's next level!" The pair met when Arden guest-starred on Workin' Moms as Anne's (Dani Kind) mom and since then, Arden has been the "most supportive, kindest mentor in my life," says Rinaldi. "For me, as a woman in this business, I look up to her. I'd like to be able to give what she's given me to someone who's coming up in the business. That support and kindness are just next-level."
Part of that support meant that when Rinaldi asked about My Special Guest, Arden was completely game. "She flew out, had her suitcase, and we did this weird little thing. We barely got through that day because she was so funny. She did so much improv around the script that we died with laughter. She's everything that you would think." Thankfully for viewers, bloopers for Arden's episode are available on the show's YouTube channel. "We loved it when we could crack her. It was just so fun."
So what's next for Rinaldi and the series? She says that the response to the series so far has been "really overwhelming and wonderful," and they are excited to see where it goes next. "We'd like to ideally do a Larry David show where we still follow these two women's friendship with a Canadian special guest every episode." Here's hoping viewers get more of My Special Guest and that Rinaldi gets her dream guests, including both Ryan Reynolds and Sandra Oh!
All episodes of My Special Guest are now streaming on YouTube.