With Season 6 of Rookie Blue premiering May 21 on Global (and June 25 on ABC), fans are already worried and hoping that this won't be 15 Division's farewell tour. The show wrapped production on Season 6 last fall but the show's future has been somewhat of a mystery up until this point.
In January, ABC entertainment president Paul Lee expressed interest in the show continuing. Then, later on, the official Rookie Blue twitter feed shared a story that cited Sherry White (Orphan Black) as the new showrunner. Up until that point, fans figured if current showrunner Tassie Cameron was stepping down (as she previously told The TV Junkies she was considering doing), that would be it for the show, too. Yet there's still no official word on whether or not the show will return for Season 7, so we went straight to the source herself, Tassie Cameron.
"We'd love to do more," she tells The TV Junkies. But unfortunately for fans it sounds like things are out of her control at this point. That means for fans — and the cast and crew — it's more of a waiting game at this point. "We're waiting to hear. We're open to doing it," Cameron says. Everything now hinges on an official word from Global.
If Season 7 does indeed happen, Cameron confirmed she will not be at the helm. "I will not be show running past what I've done," she explains, before adding that "if we were to get a Season 7 then Sherry White would show-run. I'd consult and butt in and probably make a nuisance of myself." While this may worry some fans, Cameron herself thinks this will benefit the show. "I think it's a good time for the show to have a new vision," she adds.
Not to mention the fact that Cameron's latest pilot, Rope, is currently in contention for a pickup among NBC's current pilots.
Some more good news for fans is that White and the show already seem to have some ideas about where to take things should Season 7 happen. "Sherry has come up with an incredible plan for Season 7. It's kind of fresh and new but also retains some of the characters and the spirit of the first six seasons," previews Cameron.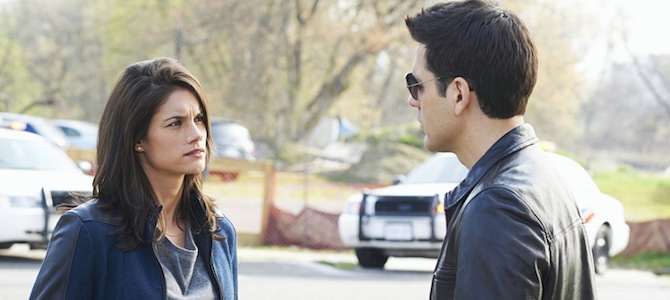 With at least one of the biggest Rookie Blue mysteries partially solved, what about the future of Rookie Blue's popular couple Andy and Sam, a.k.a. McSwarek? The Season 5 finale left fans in shock over Sam's ex-girlfriend Marlo's surprise pregnancy and some fans have been holding out hope that the baby won't really be Sam's. "It's his baby," Cameron confirms. "I know fans will be very disappointed to hear that, but if it wasn't his baby it wouldn't be much of a complication."
What does this baby and the complications it brings mean for McSwarek? Will they not get that happily-ever-after moment after all? Not so fast says Cameron. "When this pregnancy bomb hits it's obviously going to be a massive shift for both of them. We were working on the theme this season that even if life isn't a fairy tale it doesn't mean we can't have a happy ending," she says. It may be how McSwarek reacts and deals with the Marlo news that will prove to be the real test for the couple. "We were trying to explore that life may end looking a lot different than you imagined when you were first starting out on the job, or first starting out in a relationship, and life kind of takes you by surprise and throws you curveballs. It's really how you react to them together. That's what's going to determine whether you can make it through them," Cameron explains.
Not only does this Marlo's unexpected pregnancy allow Rookie Blue to explore that theme, but it also provides a new and exciting twist to throw at the couple. "We didn't want to do a love triangle with anybody, we wanted to show life itself as the complication for these two," said Cameron. Fear not so soon though, McSwarek fans.
"I can just say this: they are in as good of a place as they have ever been to handle something like this."
Do you want more Rookie Blue? Are you nervous about Marlo's pregnancy in Season 6? Will Sam and Andy be able to survive this latest complication in their relationship? Sound off in the comments below.