Another year is now upon us, and while Rookie Blue may still be officially over and gone, The TV Junkies have some good news for fans of the Canadian cop drama. Despite the fact that the show ended on what many considered to be a perfect note–with fan favorite couple Andy (Missy Peregrym) and Sam (Ben Bass) aka McSwarek, tying the knot, and the rest of the gang moving onward and upward in their careers–we couldn't help but wonder what would have happened if the show had been renewed for Season 7. The good news is we no longer have to speculate, and now finally have an idea of what another season would have looked like.
Tassie Cameron, Rookie Blue's co-creator and showrunner for all six seasons, had previously confirmed that if a Season 7 were to happen, long time Rookie writer Sherry White would be taking over control of the show. White was nice enough to field some questions from The TV Junkies about what her plan for the show's seventh season would have looked like. "We would have been doing 13 episodes, ideally, and we had five scripts written," she tells us. White said that the show was in development for the seventh season with ABC and Global, both of whom were "quite pleased with the direction of this reboot." Ultimately, White says that the decision to not bring Rookie Blue back was "not a reflection of the creative material, but more of a business decision."
In our interview with White, she reveals what the future would have held for the now-married McSwarek, newly minted training officers Gail (Charlotte Sullivan) and Chloe (Priscilla Faia), how Nick (Peter Mooney) may have returned from Vancouver and what was in store for Traci (Enuka Okuma). So take a deep breath Rookie Blue fans, and read on for all the details.
The TV Junkies: Would there have been any kind of time jump after the finale or would we have picked up immediately where Season 6 left off?
Sherry White: Yes, the new season was going to start about six months later. So when the series was to restart, Sam and Andy had been married for six months, and a new batch of Rookies were starting out at 15 division.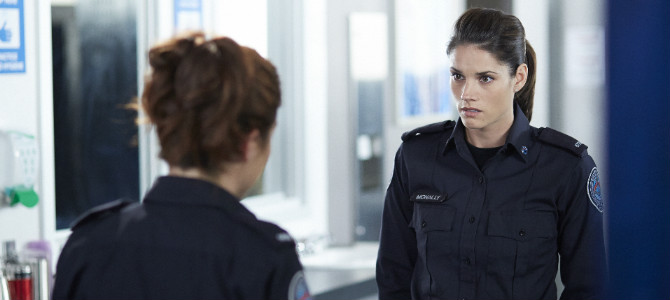 TTVJ: Tassie had said the theme of Season 6 was "life isn't a fairy tale." What would've been the theme for Season 7?
SW: "How can you be a partner and still stand on your own two feet?" The series was really exploring how to find your independence; within relationships, on the job, when you are used to working with others. We were going to explore this in many ways. Oliver (Matt Gordon) was going to be newly single. Dov (Gregory Smith) was going to be without Chris (Travis Milne–who was not going to be a part of Season 7). We had four new Rookies starting at 15, each of them dependent on a Training Officer. Also, the big kicker for the new season was one of the Rookies was going to be killed on her first day on the job. Her best friend, another Rookie named Hannah, was going to be a very interesting character who formed a tight, complicated bond with Andy.
I was also planning on having 15 create the position of Road Sergeant. In real life, police have road sergeants–someone who is in charge of the platoon on the road. We never used that on Rookie Blue because we preferred our people to be teamed up with others. But this season, we thought it was time that Andy had a promotion, but we didn't want her to be out of uniform. She'd already been a Training Officer in Season 5. So we thought it was an interesting challenge for her to be in charge of everyone on the street (not Oliver), but her peers like Gail and Chloe, as well as all the Rookies. It was also great for the theme–she was used to being one of the gang, and this season she was going to be a little more on her own.
TTVJ: How would co-parenting be going for Sam and Andy with Marlo (Rachael Ancheril)? Were there any plans for them to eventually have a little McSwarek baby of their own?
SW: I was definitely exploring what was next for this married couple–happily married but not exactly domestic bliss. But their plans and talks about babies were to be temporarily interrupted because of the Rookie's death, where Sam was to get pulled into an undercover operation to investigate. So the happy couple were going to end up spending time alone.
TTVJ: In talking with Tassie, Charlotte and some of the other writers it seems like everyone universally wanted Gail to eventually get back with Holly (Aliyah O'Brien). Would that have been in the cards for Season 7 and if so, how would their reunion have happened?
SW: That was our intention for the latter half of the season–that Gail would at first learn how to be a really good training officer, and this would have helped her let go of some of her more selfish tendencies, better preparing her for a mature relationship.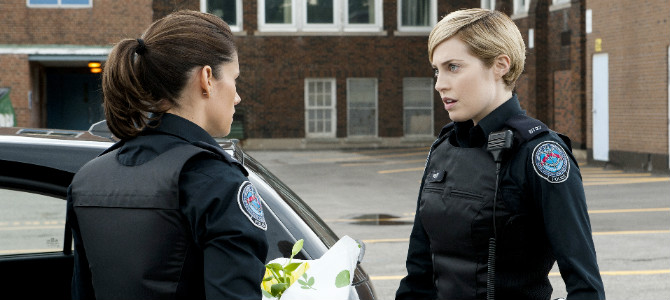 TTVJ: So you were going to bring back Aliyah as Holly for the end of Season 7 to be with Gail?
SW: Yes, my hope was we would have brought back Aliyah for the second half of the season.  We hadn't written her into the episodes we had developed, but we were building towards that.
TTVJ: Gail's attempt at adoption was ultimately not successful, but would she have tried for children in some way again in the future?
SW: Not in this season.
TTVJ: When we last saw Nick and Juliet (Erin Karpluk) they were headed off to Vancouver. Does that mean that Peter and Erin would've not come back for Season 7?
SW: The intention was we were going to see Nick in the first episode, but he would be looking like a slightly different Nick. Longer hair, scruffier face. He comes back to 15 Division as a detective, out of uniform, and he's a little unhinged after a traumatic undercover operation that saw his relationship with Juliet crash and burn. Nick is hiding something, only the young Rookie Hannah starts to sniff it out before anyone else. Basically we were looking forward to exploring Nick without the uniform. We like the idea that the uniform is something that kept him in line–when he was in the military, and when he was on the force. What was it going to be like for him without it?
TTVJ: Traci had a really rough go of it, especially when it came to her love life. Would she have eventually found some happiness in the love department or was she going to focus on work?
SW: Traci was going to be focused on work–running guns and gangs–we were going to take a little break from her love life this year.
TTVJ: The finale certainly hinted at the fact that Chloe and Dov may be the next ones to get married. Is that true and what would've happened with them?
SW: Yeah, we were going to explore their domestic situation–but their happiness was going to be interrupted with Chloe going through something traumatic at work, where she had to battle a bit of PTSD. We wanted to challenge her optimistic exterior with something heavy. They were going to get through it okay, and stronger for it, by the end of the season.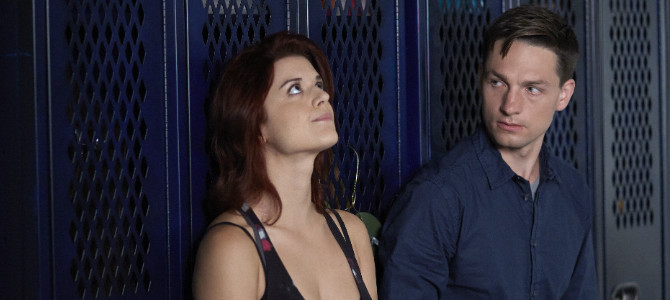 TTVJ: Which leaves us with Travis Milne's Chris Diaz. What sort of antics would he have gotten himself into in Season 7?
SW: He was going to be off being a big shot on a small town force, hunting rabbits on his days off and being sober.
TTVJ: Tassie said there were some plans for some new characters. Can you share with us who they would have been and how they would've factored into the season?
SW: Yeah, we had 4 new Rookies. Hannah, who I told you about. Nadia who was going to be taken out in the first episode. Then we had Zander, a young gay cop, and Jayden, a young black cop who lived in the project housing with his mother and his three younger siblings who he was going to be feeling very responsible for. There was going to be some challenges for him and keeping his younger brother out of trouble.
TTVJ: Ultimately how did you and your team feel about the decision to not bring the show back for another season?
SW: I was sad for sure. Rookie Blue was a big part of my life and I was really excited to take on the challenge of trying to reboot the show. But in truth, I think the heart of the show was with Sam and Andy, and I think we told that story really really well. It is hard to keep telling the story of a fairy tale beyond the happily ever after without taking some of the shine off of the romance of it all. There was a hopeful naïve optimistic quality to the show that was going to be lost with losing some of the original characters. So, in the end, I get it.
I always had that fear in the back of my mind that despite working really hard to come up with some great stuff, we were always in jeopardy of being that season that was just one season too many. So maybe in getting canceled, we dodged a bullet!