In its seven seasons on the air, The Vampire Diaries has racked up quite a few popular romantic pairings. Something about the "sexy perpetually-teenaged vampires fighting evil" premise makes for a lot of swoon-worthy moments. The show also isn't shy about pairing its lovely leading ladies together with several of their leading men. Elena, for example, is one-third of one of the most popular love triangles in The CW's long and storied history of love triangles.
Caroline, the de facto female lead following Nina Dobrev's departure from the series, is played by the immaculate Candice King who, honestly, would probably have serious chemistry and heat with just about anybody she acts across from. Fittingly, Caroline's many romances on the series have been some of the show's most popular.
In honor of the show's renewal for an eighth season, we're taking a look back at a few of the most romantic 'ship moments for a few of TVD's most beloved couples. After you've reviewed them all be sure to vote on your favorite!
Stefan and Elena (Stelena)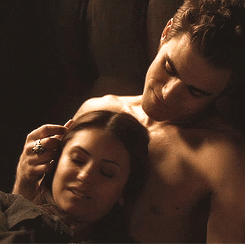 The original TVD supercouple, Stefan and Elena's sweet and innocent romance was the center point around which the series was initially based. Stefan was Elena's first love. That's not to make it sound like it was all hand-holding and chaste kisses. Nope, Stelena definitely brought the heat and the heart-stopping declarations of undying love, when the situation called for it. Though the two broke up once Elena realized her feelings for his brother, the depth of their love isn't easily forgotten.
Most romantic moment: Stelena's first time (Season 1, Episode 10 "The Turning Point"). Elena found out that Stefan was a vampire a few episodes before, leading to their first breakup. They reunite in "The Turning Point" and have sex for the first time. Elena touches Stefan's face when he's vamped out, signifying her acceptance of his vampy nature, and her love for him in spite of it. It's a big moment, both tender and powerful, and the chemistry between Stefan and Elena is electric. Bonus points: Elena touching Stefan's veiny face was also cited by Paul Wesley as his favorite scene.
Runners up: Stefan takes Elena to the top of the carousel (2×02); their reluctant, heartbreaking, tear-filled breakup when Katherine threatens to harm their loved ones (2×06); Stefan calls Elena but says nothing when he's on the road with Klaus, while she assures him that she loves him and tells him he'll be okay (3×01); "I'll be with you forever" – Stefan gives newbie vamp Elena a daylight ring (4×01); Stefan attempts to slow dance Elena's humanity back on and it totally nearly works (4×19); Stefan fake-proposes to Elena while they goofily play up the melodrama (6×04); "You changed everything for me" – Stelena's final farewell after Kai's curse on Elena (6×22).
Damon and Elena (Delena)
Elena's chemistry with Damon was always undeniable–even when she was seriously dating his brother (and her apparent soulmate), Stefan. Try as she might to push away her conflicting feelings for the "bad" Salvatore brother, she just couldn't quit Damon, and in the end, he was her choice. Not only was their sexual tension off the damn charts, their "will-they-or-won't-they" in the early seasons of the show was part of what made the beginning of the series so fantastic.
Most romantic moment: The motel kiss (Season 3, Episode 19). Season 3 was prime time for Delena. The two bond while Stefan is with Klaus, as they work together to track Stefan down and retrieve him, inadvertently falling deeper in love with one another along the way. While it is by no means their first kiss, the motel scene is significant because it represents Elena definitively giving into her feelings for Damon and taking the initiative–culminating in that super steamy motel kiss. And talk about sexual tension! The two of them lying in the motel bed pre-kiss is almost unbearable. No wonder Elena had to get up and leave the room.
Runners up: Damon steps in and dances with Elena when her escort Stefan is MIA (1×19); "I love you, Elena" – after nearly a season and a half of pining over Elena, Damon confesses his love to her, only to compel her to forget it moments later (2×08); "I like you now, just the way you are" – Elena comforts Damon and kisses him while he's on his deathbed, in what's arguably the one moment that irreparably damages the Stelena relationship (2×22); Damon kisses Elena on her porch (3×10); Damon and Elena dance in front of the fireplace and have sex for the first time (4×07); "I sure as hell don't want to be your friend" (5×18); Unseen ghost Damon says goodbye to distraught, sobbing Elena before the Other Side collapses (5×22); Elena recovers her memory of their kiss in the rain (6×07); and the final dance – Elena's goodbye (6×22).
Klaus and Caroline (Klaroline)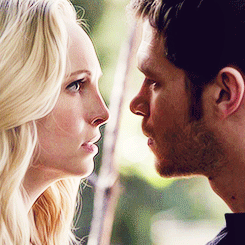 Klaus Mikaelson was initially introduced as the baddie to end all baddies, and in some fans' eyes, he still reigns supreme as the greatest TVD villain of them all. Despite his initial ruthlessness, the years have softened the Original Vampire/Hybrid. Klaus' fascination with, and genuine love for, Caroline Forbes is enormously popular among viewers even now, when the two haven't even been in the same room in years!
Most romantic moment: Caroline gives into her feelings for Klaus and they have super hot forest sex (Season 5, Episode 11). Months after Klaus left Mystic Falls and settled in New Orleans, he returns for the occasion of Katherine's (apparent) death. While there, he decides now's as good a time as any to press Caroline to admit how she feels about him, promising to leave forever once she does. It goes over better than he probably even imagined: Caroline clearly initiates their kiss, so there's no ambiguity here about whether she's into it or not. After seasons of Klaus chasing Caroline, this moment of reciprocation, wordlessly establishing Caroline's attraction to Klaus, is absolutely perfect.
Runners up: Klaus saves Caroline's life by giving her his blood after Tyler bites her (3×11); Klaus cuts in between Tyler and Caroline and dances with her at the '20s dance (3×20); Klaus protects Caroline from crazy Alaric (3×21); and Klaus frees Tyler from his control as his graduation present to Caroline and issues the love declaration to end all love declarations: "He's your first love. I intend to be your last, however long it takes" (4×23).
Stefan and Caroline (Steroline)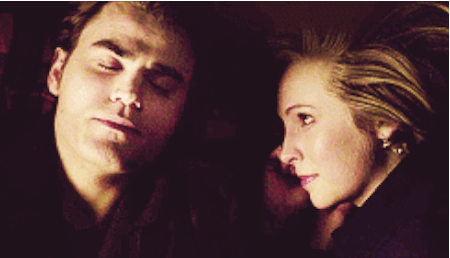 Stefan and Caroline were the definition of a perfect slow-burn romance. Initially, Stefan was just the boyfriend of Caroline's best friend, Elena. In fact, Caroline was unabashedly the biggest Stelena 'shipper of them all, repeatedly trying to convince Elena to choose Stefan over Damon, calling Stefan Elena's "epic love." Yet over time, and many Stelena break-ups later, Stefan and Caroline managed to become best friends. They remained completely platonic for years before they each separately realized that their feelings had deepened and changed into something romantic. Now, they share one of the deepest loves we've seen in the series to date.
Most romantic moment: Stefan confesses his love to Caroline and tells he that he'll wait for her to be ready for him (Season 6, Episode 22). This was a tough choice, because the Steroline first kiss was truly one of the best kisses in TVD's long, kiss-filled history. Stefan's long-overdue confession of his feelings for his best friend is more chaste than some of the other couples' most romantic moments, but it's profoundly moving in how deep it is and how much history has built up between these two.
Runners up: "Someday, you'll meet someone new and you'll fall madly in love without even realizing it" – Stefan and Caroline dance at prom and discuss moving on (4×19); Caroline asks Stefan if she's a horrible person for having slept with Klaus, and he teases her (5×12); Caroline fails to rescue Stefan, and they snuggle and fall asleep on the truck bed (5×17); Caroline reacts when Stefan (temporarily) dies (5×21); in the midst of Caroline's mother dying, Steroline shares the most gorgeously lit first kiss of all time (6×14); Stefan and Caroline hook up, solidifying their relationship (7×01); and "I promise I will come back for you" – Stefan leaves Mystic Falls, and Caroline, behind to draw Rayna away (7×13).
Now it's your turn! We want to hear what you think of our chosen moments. Is there another Stelena, Delena, Klaroline, or Steroline moment that stole your heart? Be sure to add it in the comments below!