Sometimes watching an episode of Sons of Anarchy leaves me feeling like bit like The Da Vinci Code's Robert Langdon. I start seeing secret messages and try and decrypt them, only to end up wondering if anyone else has as much free time on their hands as I do.
This week's hidden message was in the lingering shot of the town signs as Gemma drove off into the night, the words "Portento" (marvel), "Fortuna" (fortune) and "Eureka" (I have found it) closing the episode. Gemma's fortune certainly was something to marvel at, given her biggest secret to-date was finally exposed and she STILL managed to walk away without any harm done. But now that all the secrets are on the table, the storylines are ready to wrap up. And some of them aren't going to be so pretty.
It's certainly been a long and agonizing wait but when the moment of truth finally came down, Charlie Hunnam certainly went all in when it came to acting out the pure pain and agony.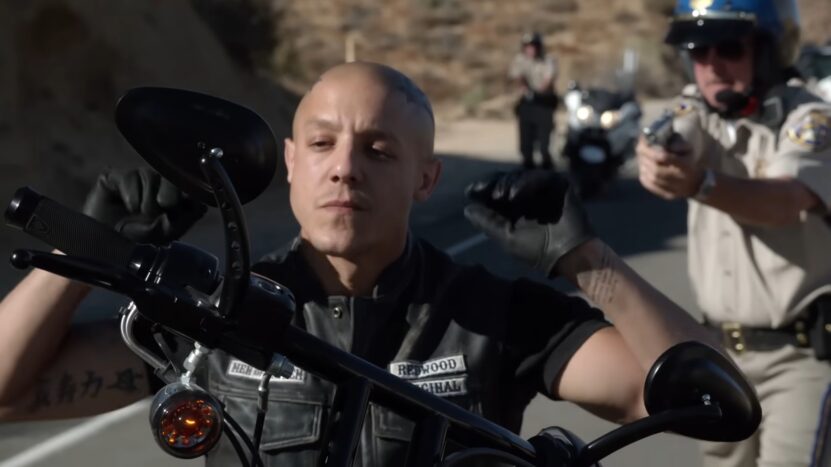 Watching him beg Juice for the truth left a lump in my throat for most of their interaction–also thanks to the hard delivery from Theo Rossi–as he finally realized the type of havok he wreaked thinking the Chinese were behind Tara's murder.
I don't think Jax will be able to kill Gemma, but I will be thoroughly annoyed if she leaves the show completely untouched (being stripped of her family just isn't good enough). The scene also left me at peace with Juice as he finally did the right thing…up until he decided to call Gemma and tip her off, that is, which made me want to tear my hair out. Or hide under a blanket.
Juice wasn't the only character that made annoying decisions. Of all the times the Sons have screwed him over, did Unser really need to choose that specific day to finally lay the law down on Jax and have him arrested? It also surprised me that Unser didn't catch on quicker what was going on given his suspicion of Gemma and Juice's association from the past.
Then there was Chuckie, who demonstrated one last time just how easy it is to fall for Gemma's manipulative charms as he gave her a getaway vehicle to go undetected. The only good thing that came out of their exchange was Gemma's golden "I accept that" response when Chuckie called her his best friend.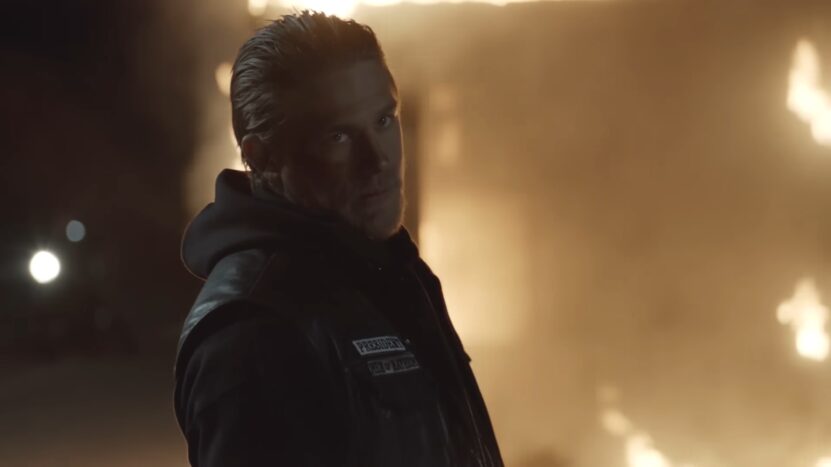 Gemma isn't the only Teller whose life may be in jeopardy, however. As the Sons reiterated while Jax was gone, Jury's murder without reason is enough to call a Mayhem vote among charters, a factor both Chibs and Tig looked mighty concerned about when Jax let them know Charlie Barosky had sold them out (another hard truth for the club to swallow, realizing just how badly they'd been played all season).
With both Gemma and Jax's fate are now up in the air, and with all the secrets on the table, we'll know where this all ends in two episodes.
Additional Anarchy:
Things are not looking so pleasant between Chibs and Jarry.
Such convenient timing that Wendy and Unser both decided to tell Jax the truths they've been hiding about the night of Tara's murder!
Best line of the night goes to Juice: "Trust me, all I am in here is someone's asshole."
Loved how much more powerful it was simply seeing Nero's reactions to the phone call with Jax when he realized what Gemma did to Tara. Serious props to Jimmy Smits on his acting this episode.
Does Gemma REALLY think the club will survive all this and Abel will be able to patch in one day?
One of the best scenes of the night was watching Jax cry into Nero's arms asking how Gemma could do such a terrible thing, again due to the acting of both Hunnam and Smits.
The brutality of Juice's send-off just keeps getting worse and worse.
Sons of Anarchy airs Tuesdays at 10 p.m. ET on FX and Super Channel.
If you enjoy exploring the emotional depths and character development in shows like Sons of Anarchy, you might also appreciate our analysis of Elena's journey and self-discovery in the Bitten "Postmortem" episode.