Of the 50+ holiday movies that will air this coming season on the likes of Hallmark and Lifetime, none of them will feature a LGBTQ couple. To fill that void and add some much needed representation on screen, Tello Films has made Season of Love, a queer lady holiday romantic comedy. The movie will be available to stream on Sunday, December 1 and is holding its premiere this Thursday, November 21. Featuring an all-female ensemble cast, Season of Love will follow the lives of three very different couples, as they deal with their love lives in loosely interrelated tales set in the days surrounding Christmas and New Years.
At the center of one of those couples is Wynonna Earp star Dominique Provost-Chalkley. She plays Sue, a woman struggling to make ends meet after taking care of her sick mother's medical bills, but who sees things start to look up as her long-time girlfriend, Janey (Janelle Marie), returns home. Janey also pushes Sue to use her talents as a musician and perform live. Sue's journey in the film, which was written by Kathryn Trammell and directed by Christin Baker, is one that was very relatable to Provost-Chalkley, who also deals with anxiety around performing her music.
She recently spoke with The TV Junkies about her role in Season of Love, and specifically why she felt so strongly about going on this journey with Sue. Provost-Chalkley also talks to us about performing the film's lead track, "Lift Your Spirit Up," both in the movie and at the film's upcoming soundtrack release party. The actress will soon be returning to Calgary, as production on Season 4 of Wynonna Earp gets underway in the new year.
The TV Junkies: How did this opportunity come about, and why did you want to be a part of Season of Love?
Dominique Provost-Chalkley: I'm probably going to butcher this story, and Christin Baker will read this and say 'Dom, that's not what happened at all.' My memory is shocking when it comes to these things. But my understanding is that she had wanted to work with me for a little while, and she had sent me a project prior to this about a singer in Nashville. I was away in Brazil at the time, and I thought it was really cool, and spoke to me, since it was continuing to represent a community I felt passionate about, but I was in Brazil and not in the right headspace. So things didn't quite align, and later down the line, this came along.
Christin gave me the option of playing two characters in the movie, either Sue or Lou (Jessica Clark). I read the script and instantly I thought, for a multitude of reasons, I had to play Sue. A lot of things were presenting themselves on my path with my current battles and struggles with performing, and it just seemed like it made sense that this was the project I'd work with Christin on.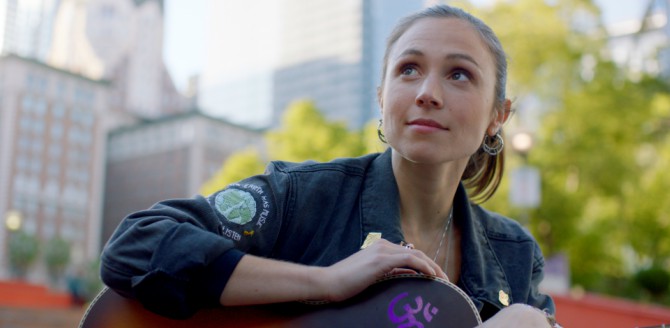 TTVJ: You did end up playing Sue, so what can you share a little about her and what she's going through in the film?
DPC: She has intense performance anxiety when it comes to singing. Her mom has been very sick for a long time, and she has been the primary caregiver for that time. Her girlfriend has also been away for a very long time, and she's become this lone wolf that has to fight for herself. We see her in the film, overcome and address some of those anxieties, in and amongst, a lovely, happy, Christmas movie. Obviously. [laughs] It sounds dark, but that's the truth. She's in love and trying to balance all those things.
TTVJ: Similar to Sue, you're having to perform and sing in the film. We've seen you sing a little on Wynonna Earp, but this is much more. What was this experience like for you?
DPC: I've mentioned before, but I went through a bit of a rebirth with my musical awakening when I was in Brazil. I wrote an album's worth of songs, and it took me by surprise. When this film came out, it forced me to take what was before just something I did in my bedroom, or a creative outlet that was helpful for me and a few people, if it was around a fire in Brazil somewhere, and make it more. It's been very small steps in the right direction, up until that point, and I knew this was really going to push me out of my comfort zone. There's a lot of fear that comes up and is surrounding it.
I've been writing songs and playing in my room since I was 16 years old. It's something that's just been for me, up until this point. This is a very different experience. When I came to LA, I knew this was going to push me, and I happened to stay at this amazing guy JJ's house. I always prefer to do these AirBnB situations so I feel like I'm in a home during filming. So I stayed and made friends with these two guys, and they were a huge part of me coming out of my shell. They were there when I was practicing for the movie, and are really creative people, and were really cool. All that to say is that it's been a right old turning point in me performing in front of people.
TTVJ: And now you're also going to be performing live at the movie's album release party. How do you feel about that?
DPC: Christin has been a big part of my journey with music, especially after working on Sue together. She knew how nervous I was, and she was really nurturing, and accommodating for holding space for those nerves, and letting them live. She encouraged me and has been a massive part of my musical journey. We were hanging out in Montreal and she offered this up as an opportunity, to play live in front of people. This is sort of like my first gig and I realized I have to start saying "Yes" to things. Fear can hold you back for so long, and give you all of the reasons to say "no," because it's way easier. When opportunities present themselves, like this one, and things are too aligned, then I have to see it as a step in the right direction, even if it's tricky.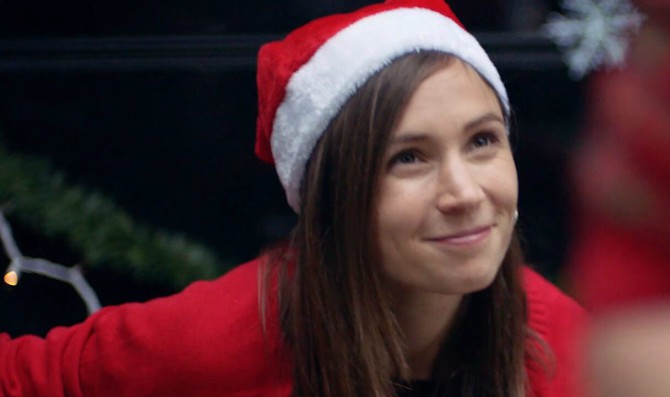 TTVJ: Well, I've seen your performance and you sing and play just beautifully. I think when we say "yes" to the things that scare us, that those things sometimes turn into the very best things for us. 
DPC: Thank you and I really appreciate that. It's really good to see it as steps on a path, and not put pressure on myself for it to be the be all and end all. If I'm being truly honest, there are big parts of my performance that I really dislike, just on a personal level, because the whole thing — talking about my anxiety and everything — I found really difficult at that point. When I watch my performance, I really try to think that this is just a step on the path.
Also, I'm really proud to be a part of the film. I'm really proud to be part of the first queer Christmas movie. That's fucking awesome and it's about time! When I was watching it, I loved watching the other parts. It's all so cute and it made me feel really good. The community deserves it.
TTVJ: You do a lot of conventions, and therefore, have met a lot of fans that have allowed you to personally see the power and importance of on screen representation. One of the biggest things about Season of Love is that it's filling this void, and so it feels like a very important film.
DPC: That's exactly how I felt when I watched it. It's really cool and I'm so happy to even witness it. Being a part of it was one thing and great, but more than anything, maybe if I hadn't got Wynonna and Season of Love, I might not know about these things going on in the world. It's help me, personally, so much that I have so much gratitude just being a witness of it. It's aided me on my journey. It's really cool and I have a lot of gratitude for that.
TTVJ: Last question, of course I have to ask, how do you feel about finally getting back out to Calgary soon for Wynonna Earp?
DPC: I'm soooooo excited! Oh my gosh, I'm so excited. It comes from a really, really deep place. I'm excited to not only reconnect with Calgary, the crew, and the show, but I'm so excited to reconnect with Waverly. I've missed her! I'm so excited to see what happens in her journey, and where Emily [Andras] decides to take it. I, Dominique, feel ready to bring everything that these past two years has taught me and put it right into her journey. Ahhhh! I'm so excited!
Excited to check out Season of Love? Sound off below!