Fans assume 25-year-old Bella Hadid has undergone multiple cosmetic surgery procedures, which she disputes. The Model admitted that she spent a significant amount of her youth worrying about her beauty because of her elder sister, Gigi Hadid and that she was the reason for her decision to get plastic surgery. Bella Hadid admits to having a rhinoplasty but denies having further procedures, such as a facelift or eye lift. She also revealed that she previously had a terrible diet and starved herself for the shoots.
Isabella Khair Hadid is an American model better known by her nickname Bella Hadid. In 2016, she received the Model of the Year award from Model. Model of the Year Awards. She is acknowledged as one of the most stylish and talented young models in the current fashion industry. Hadid began her career as a model at a young age, utilizing a Flynn Skye advertisement as a springboard.
She became a model for Tommy Hilfiger, Chanel, Marc Jacobs, and Diane von Fürstenberg, among others. Additionally, she has made appearances in publications, including Seventeen, Elle, Teen Vogue, & Vogue Australia. In addition to modeling, she owns her own fashion clothing company, Robert Riley's. She has 56 million Instagram followers and almost 1.5 million Twitter followers.
Must read: Talia Jackson Weight Loss & Breast Reduction: Jade from Family Reunion: How Did She Lose Weight?
On Wednesday, several celebrities, including Bella Hadid, Naomi Campbell, and Poppy Delevingne, attended the Fashion Trust Arabia Prize ceremony in Doha, Qatar's capital, despite criticism of the country's poor human rights record.
Bella Hadid, 26, who has previously spoken about social justice issues, and her father, Mohamed Hadid, attended the event at the city's National Museum in a festive mood. This drew followers' attention to the famous Model, who they speculate has undergone plastic surgery since she seems different from her former self. This article describes Bella Hadid's cosmetic surgery in detail.
Bella Hadid's Plastic Surgery: The Model Admitted Her Sister Gigi Hadid Inspired Her to Undergo Surgery!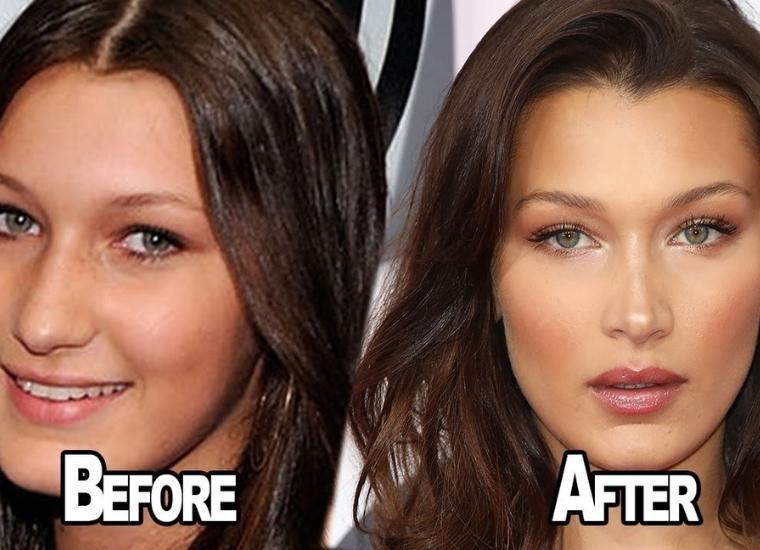 According to the magazine, Bella Hadid (@bellahadid) is believed to have undergone many cosmetic surgery procedures. However, the 25-year-old Model denies this. Her appearance has inspired many to undergo plastic surgery to look as stunning as she does; however, the Model did admit that, due to her older sister Gigi Hadid (@gigihadid), Bella Hadid spent much of her youth worrying about how she looked and that she was her inspiration for undergoing plastic surgery.
Must read: Dan + Shay's Shay Mooney Discusses Her Nearly 50 lb. Weight Loss
While Hadid readily confesses to having a rhinoplasty, she vehemently denied reports that she had an eye lift or lip filler. The supermodel on the cover of American Vogue's April edition expressed regret over getting plastic surgery when she was 14 years old. The prototype stated:
I would have grown into the nose of my forefathers if I had retained it.
She said that she had never had cheek filler either. Many have speculated that the celebrity's cheeks were filled with filler. She then explained how people compared her to herself when she was 13. To bolster her position, she stated:
Because of one photograph of myself as a teenager with a swollen face, people believe I completely f—ed with my appearance. Surely you have changed since you were 13 years old.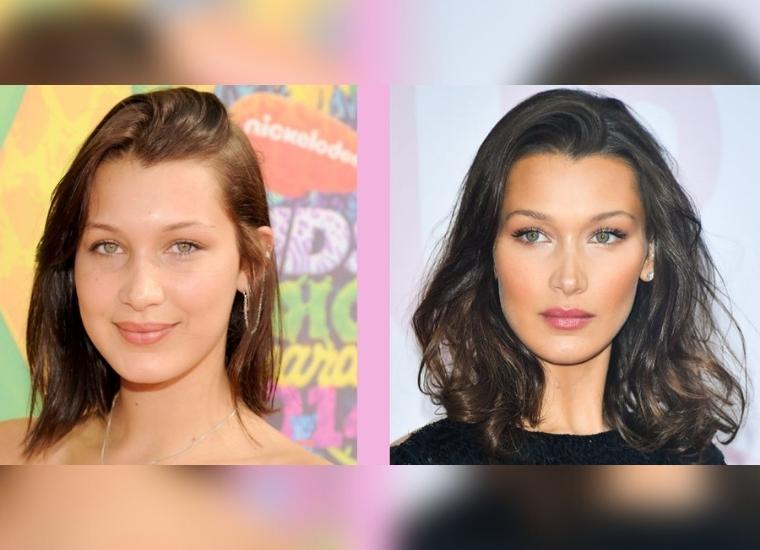 Regarding her peculiar eyes and eyebrows, the actress was not reticent to explain them. She has also not had any therapies. Instead, she had a snatched appearance due to a decent, traditional cosmetic technique. She explained that she had not had an eye lift, the most common cosmetic procedure.
According to the Model, the strange appearance results from makeup and lighting. And that she has not undergone any more plastic surgery procedures since her 14-year-old nose job, which was inspired by her beautiful sister Gigi Hadid.
Must read: Puff Daddy Weight Gain: How Much Weight Gain Did Sean Combs Have? Has The Rapper Gained Weight Again?
The Model also stated that she would not lie about undergoing plastic surgery and continues to battle against the modeling industry's aesthetic standards, which favor small waists and thin women. She revealed that she was having trouble fitting into clothes and that her diet was a disaster since she was starving herself for the photo session.
Now, her emotional and physical wellness is her priority. The Model also disclosed that she had experienced mental difficulties over the years and no longer felt like herself. She thinks she is now in a much better position. The Model now follows a balanced diet and exercise regimen to preserve her appearance.
Her social media accounts are: Instagram, Twitter, Facebook.