Between November 2021 & March 2023, the fourth season of Star Trek: Discovery debuted. The first season included 15 episodes, the second season 14, and the third and fourth seasons each contained 13 episodes. Three months have elapsed since the fourth season's finale, and inquiries concerning Star Trek Discovery Season 5 mount daily. Was the fall in episode count an indication of the series' declining viewership? Will there be a Star Trek Discovery Season 5? If this is the case, would there be fewer episodes? The solutions are provided below.
Star Trek Discovery Season 5 Release date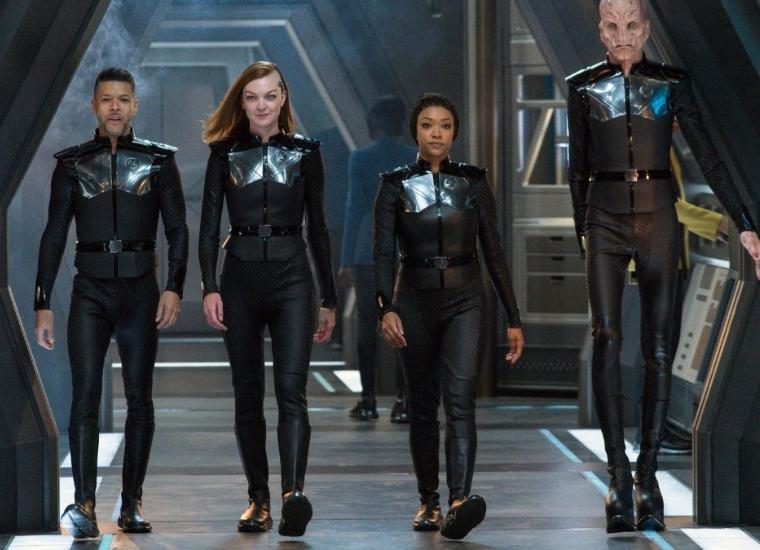 The Star Trek Discovery Season 5 was approved in January 2023 as part of a massive statement on the future of the Star Trek universe.
In conjunction with the news, it was reported that Picard would finish after the third season and that Strange New Worlds has been renewed for a second season.
Unfortunately, there is no more indication of when it will return to our screens. Even the preceding series did not have a regular publication schedule, so we have no basis for comparison.
Must read: Release Date & Cast for Shadow and Bone Season 2 and What We know
The first season premiered in September 2017, the second in January 2019, the third in October 2020, and the fourth in November 2021. See? There is no association.
Following the show's custom of releasing a new season annually, we should expect season five to premiere around the end of 2023.
If new details become available, we'll let you know.
Star Trek: Discovery Season 5 Cast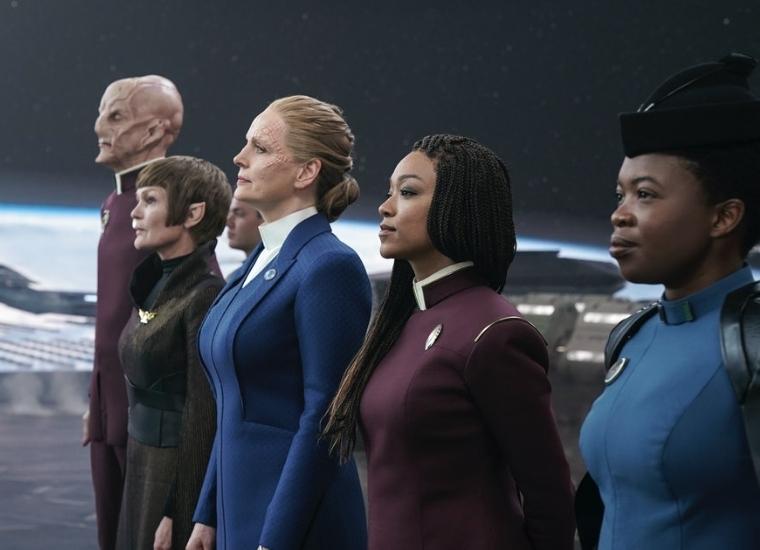 Since there were no significant fatalities in the fourth season, we may presume that most, if not all, of the main roles, co-stars, and some guest actors will return.
We don't have any confirmations on returning cast members, but we haven't seen anyone announcing their departure, so we can presume the list below is relatively accurate for now.
Annabelle Wallis portraying Zora (voice)
Anthony Rapp in the role of Paul Stamets
Blu del Barrio as Adira Tal
Chelah Horsdal portrays Laira Rillak
David Ajala portrays Cleveland Booker
David Benjamin Tomlinson portrays Lt. JG Linus
Doug Jones portrays Saru
Emily Coutts portraying Lt. Cmdr. Keyla Detmer
Fabio Tassone portraying as Book's Ship Computer (voice)
Mary Wiseman in the role of Sylvia Tilly
Oded Fehr portrays Charles Vance
Orville Cummings portraying Lt. Christopher
Oyin Oladejo portraying Lt. Cmdr. Joann Owosekun
Patrick Kwok-Choon portrays Lt. Cmdr. Gen Rhys.
Phumzile Sitole in the role of General Ndoye
Raven Dauda portrays Cmdr. Tracy Pollard, MD.
Sara Mitich portrays Lt. Cmdr. Nilsson
Sonequa Martin-Green portrays Michael Burnham
Stacey Abrams portrays the President of the United Earth
Tara Rosling portrays President T' Rina
Tig Notaro as Jett Reno
Wilson Cruz portraying Hugh Culber
Star Trek: Discovery Season 5 Trailer
However, keep an eye on Star Trek Discovery Season 5. We will notify you as soon as we get season-related information. The Star Trek: Discovery Season 4 trailer may be on our website.
Must read: The 100 Season 8 Release Date, Cast, Trailer, Plot & More
Please watch the show and give us your feedback. Keep up-to-date and save this website for show-related updates and news.
Season 5 Leaks
There have been no leaks regarding the Star Trek Discovery Season 5. This series' production has been rather tight, so don't anticipate any major leaks before its debut.
Star Trek: Discovery Season 5 Plot
Michael knew little to nothing about the Klingons. Therefore, upon their introduction, he became upset. They insinuated their existence in a very ingenious manner by destroying a crucial antenna for several galaxies.
After studying this race, he was pleasantly surprised by what he learned. In addition to learning martial tactics, he also studied philosophy. Once he grasped at least a portion of their cognitive processes, he could comprehend several behaviors.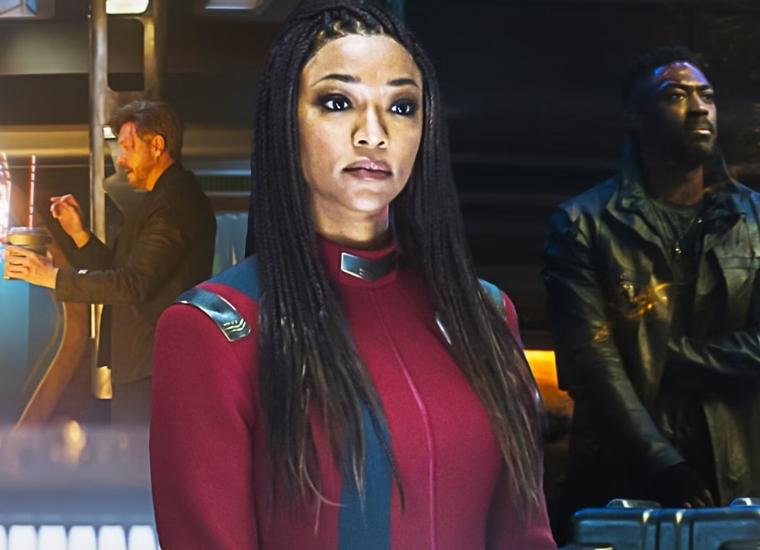 However, he was not provided information in a tranquil discourse; there was a great deal of animosity between them. Michael did not understand why he felt compelled to confront each other.
There are many issues in space, yet none of them were willing to concede. He established several connections between science and religion, juxtaposing these two domains.
Where To Watch Star Trek: Discovery Season 5
Star Trek Discovery season 5 Discovery is expected to release exclusively on Paramount Plus, the new streaming service that houses (nearly) all Star Trek material.
Now that you're up-to-to on all the news and rumors surrounding the Star Trek Discovery Season 5 premiere date, it's time to catch up on Star Trek: Picard season 3 with our helpful guide.
Is Star Trek: Discovery Unsuccessful?
Despite the series' popularity on Paramount+, it may still be deemed a failure by industry standards, especially compared to the success of other shows on Netflix, Amazon Prime, and Disney+. The inaugural episode's viewership might be favorable for Paramount+, but the statistics are still low compared to Netflix and Disney+. However, the program appears to be a success for a new streaming service such as Paramount+ since future seasons have been ordered. Moreover, because the service does not disclose statistics regarding the number of individuals who watch the series, we cannot determine whether the viewership decreases with each season.
The fact that each season has fewer episodes suggests that the show may not perform well in viewership. However, given the show's high budget, the show's audience must generate sufficient money to compensate. We do not understand why a streaming provider would release further seasons of a show if it is not profitable.
How Did Season 4 Of Discovery End?
The most shocking revelation of Season 4's Disco finale is that Earth has rejoined the Federation. Previously, in Season 3, after time-traveling to the 32nd century from the 23rd, the Discovery crew found that Earth had severed ties with the Federation in the aftermath of the galactic catastrophe known as the Burn. After uncovering the Burn mystery last season and preventing the planet-destroying DMA this season, Earth has rejoined the Federation.
We also discovered that the Federation's formerly fixed starbase headquarters is now a massive spaceship. Michelle Paradise, the showrunner, explained to Inverse how the authors chose to make this starbase fly:
It appeared to be a natural capacity of the ship after the Burn [in Season 3]. Given the time and place, it made logical for it to possess this potential. The challenge then became when and in what narrative to demonstrate this skill. "Flying to assist in the rescue of people from Earth was awe-inspiring; what a fantastic method to demonstrate that FHQ can fly in this manner!"
Conclusion
The show's emphasis has shifted from awe-inspiring science fiction to subjective emotional drama as the seasons have progressed. Sadly, this program is so well-made that its regret has become tedious.
They have strayed too far from teaching civic virtue to youngsters and sacrificing a solid SciFi narrative for a vision of the future with a squad from daytime television who are too preoccupied with their emotional misery to be qualified.
I hope they invest more in the ferocious concepts, plot elements, and wit that the past seasons have represented so effectively since they appeal to fans of all ages. Did you see the show's previous season? Please let us know in the comments.