Orange is the New Black: 10 Biggest Shocks of Season 4
|
The fourth season of Orange is the New Black is certainly one for the history books.
Filled with gut-punching and timely storylines, emotional powerhouse performances, and one-liners galore, this batch of episodes has been widely reviewed as perhaps the best of the entire series thus far.
Here are the 10 biggest shocks of Orange is the New Black Season 4, in no particular order.
1. The Swastika Branding
This was a horrifying moment on so many levels. For one, the rise of Maria Ruiz (Jessica Pimentel) from a relatively minor character in the first three seasons to the leader of the Dominican gang in Litchfield was, in retrospect, a gradual (but still shocking) move. Maria's simmering rage exploded after getting caught in her panty-selling scheme, thanks to Piper (Taylor Schilling), which resulted in Maria having three to five more years added to her sentence. That rage manifested in jumping Piper, holding her down, and branding her with the most contentious symbol of hate in existence. Even if you're a Piper hater, there's no denying that this moment was tough to watch.
2. Piper Chapman's Comeback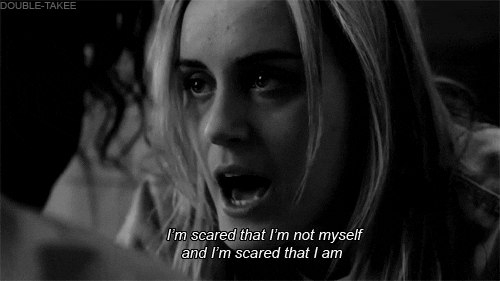 Let's be real: Piper has been the absolute worst for a while now. She cheated on Larry (Jason Biggs) (who was also lame, but still), she got Alex (Laura Prepon) sent back to prison, she cheated on Alex… the list goes on and on. Piper started off the season at the lowest point imaginable, at one point declaring herself "gangsta… like with an A" (ugh, shudder, cringe). She inadvertently started up a white supremacist gang and wound up with a swastika branding. Somehow, post-swastika, she managed to claw her way back up, reconnecting with Alex and demonstrating that she actually does have a soul somewhere down deep in there.
3. Poussey Washington's Death
This one still hurts to write about and including a picture or gif from the actual scene was basically out of the question. Instead, it's far more preferable to remember the Poussey (Samira Wiley) of the final scene in the finale, staring directly into the camera and smiling in what may have been a flashback or potentially a dream or heaven.
Poussey was a fan-favorite, amazingly well-developed character, played by the stunningly talented Wiley. Her death via accidental suffocation at the hands of corrections officer Bayley (Alan Aisenberg), during the non-violent prisoner protest, was incredibly difficult to watch. It came entirely out of left field, but its real-world roots made it a hauntingly realistic death.
4. Coates' Redemption
Jury's still out on whether this one is shocking-good or shocking-bad. When Coates (James McMenamin) brutally raped Doggett (Taryn Manning) during Season 3, there was no question about it: the sexual encounter was non-consensual, an act of violence against Doggett, who had been sexually abused in the past. It was an odd and plainly shocking decision to attempt to "rehab" Coates' image, for lack of a better word, by presenting him as being genuinely clueless (and then genuinely remorseful) about having raped Doggett.
5. Judy King's Threesome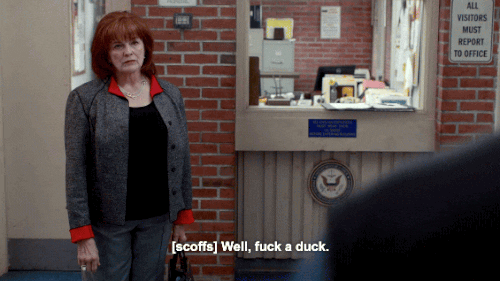 Judy King (Blair Brown) was nothing like what we might have expected, given our brief glimpses of her as a celebrity chef last season. She was saucy, manipulative, and rather selfish. She connived her way into making Luschek (Matt Peters) her "boytoy" by arranging for Nicky's (Natasha Lyonne) release from max. That was all pretty crazy, but nothing Judy King ever does will top that Yoga Jones-Luschek-Judy threesome in Season 4. Talk about the seemingly least likely trio for a threesome ever.
6. Everything About Aydin's Death and the Cover-Up
Lolly (Lori Petty) attacking Aydin (Juri Henley-Cohn) was clearly an act of self-defense, but the circumstances just got worse and worse as the season progressed. First, Alex traumatically had to smother a still-barely-alive Aydin with a roll of toilet paper. Then, Frieda (Dale Soules) was enlisted to chop up and bury the body in the garden. Finally, once Lolly continued to unravel and Aydin's body was recovered, the others involved pinned the murder on her and allowed her to be sent away to psych–indefinitely. It was an incredibly dark, violent, and surprising sequence of events, but wound up being intensely moving. Especially the Lolly parts!
7. Humphrey Forces Maritza to Swallow a Baby Mouse
This was shocking and bizarre. Poor, ditzy, sweet Maritza (Diane Guerrero) had no idea that her seemingly harmless conversation with her best friend Flaca (Jackie Cruz) would come back to haunt her when the sociopathic C.O. Humphrey (Michael Torpey) forced her into his house, alone, and actually enacted her hypothetical either-or scenario: to eat ten dead flies or one alive baby mouse. Inexplicably, she chose the mouse. Luckily, we didn't have to see that onscreen. Maritza's traumatized reactions during and after were enough for me.
8. Daya Points a Gun at Humphrey
Dayanara (Dascha Polanco) had little to nothing to do in Season 4, so the fact that she (of all the characters) wound up with the gun in her hand as a result of the Taystee (Danielle Brooks) led prison riot during the finale? That's shocking. Also shocking: that she didn't just hand the gun over to Maria Ruiz or anyone else.
9. Sophia's Ordeal in the SHU
Poor Sophia (Laverne Cox). Season 4 was difficult for her, as she spent nearly the entirety of it in solitary confinement. The inhumane and indefinite treatment messed with her head (understandably), and she even attempted suicide. Nicky stumbling upon Sophia's empty cell and seeing it empty and covered in blood (a result of Sophia's suicide attempt) was easily one of the most wrenching and shocking moments of the season.
10. Suzanne's Backstory
The final part of Suzanne's (Uzo Aduba) backstory flashbacks in the Season 4 episode "People Persons" was excruciating. It was like watching a train wreck happen in slow motion. Kindhearted but differently-abled Suzanne was clearly going down a dangerous path when she unknowingly abducted a young boy named Dylan that she recognized from her job at a big box store. Viewers could see that, but Suzanne, having the emotional development of a much younger person, could not. When Dylan made a run for it and suffered a (potentially fatal but unconfirmed) fall from a fire escape, it was shocking and completely devastating.
What Season 4 moment shocked you the most? Sound off in the comments section below.
Orange is the New Black Season 4 is available to stream now on Netflix.